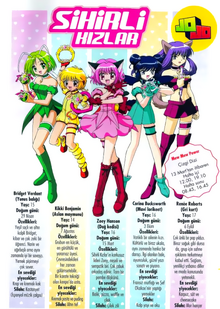 Mew Mew Power, also known as Sihirli Kızlar (translation: Magical Girls), is the Turkish Dub of Tokyo Mew Mew. Since it was dubbed from the 4Kids' version, all of the character have their English dubbed names.
The Turkish dub aired on JOJO in Turkey
Music
The music was kept in English.
Weapon and Attack Names
Zoey :
Weapon: Çilek Zil (Strawberry Bell)
Attack: Çilek Zil Tam Güç! (Strawberry Bell, Full Power!)
Corina :
Weapon: Kalp Yayı ve Oku (Heart Bow and Arrow)
Attack: Unnamed
Bridget :
Weapon: Kastanyet (Castanets)
Attack: Derin Denizde Dalgalanma Saldırı! (Deep Sea Surge Attack!)
Kikki :
Weapon: Altın Tef (Golden Tambourine)
Attack: Tef Hendek (Tambourine Trench!)
Renee :
Weapon: Mor Hançer (Purple Dagger)
Attack: Unnamed