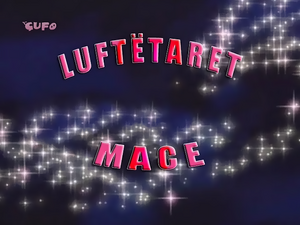 Luftëtaret Mace
(
Cat Fighters
) is the 2nd Albanian dub of Tokyo Mew Mew. It was dubbed by "Jess" Discographic and currently airs on
Digitalb's
Çufo
channel. Unlike other Mew Mew dubs, this version dubs from the Italian version's script, despite using Japanese footage.
Name Changes
Since this version dubs from the Italian script, the Italian dubbed names were used, although there are some slight changes.
Episode List
Season 1
Episode 1 -
Episode 2 -
Episode 3 -
Episode 4 -
Episode 5 - Gjimnastika (Gymnastics)
Episode 6 - Festë Vetëm Për Vajzat Mjau (A Party Only for the Mew Girls)
Episode 7 - Majmuni Vëzhgues! Majmuni Mjau (Monkey See! Monkey Mew)
Episode 8 - Fjalët e Liqenit (Words of the Lake)
Episode 9 - Dëshiron të Kërcesh? (Do You Want to Dance?)
Episode 10 - Hollivud Mjau-Mjau, Pjesa e Parë (Hollywood Mew Mew, Part 1)
Episode 11 - Zbutja e Anëtares Mjau - Pjesa e Dytë (Taming the Mew Fellowship - Part 2)
Episode 12 - Muza kryesore e Skuadrës Mjau (The Main Mew Team's Muse)
Music
Despite dubbing from the Italian version, the opening is in Japanese while the Japanese ending is cut off. Also, due to not having a complete vocal-less track, some music from the original soundtrack is added to the episodes, making some of the background music weirdly mixed.
Weapon & Attack Names
This version dubs from the Italian version's script, so most of the Italian names and terms were used in the show. Although, the attack names were changed a bit.
Mjau Luleshtrydhe (Mew Strawberry):
1st Weapon: Shiriti i Zemrës (The Heart's Ribbon)
1st Attack: Rrezet e Dritës... Në Sulm! (Rays of Light... Attack!)
Mjau Minë
Weapon: Zemra e Minës (Mina's Heart)
Attack: Harku në Veprim! (Bow in Action!)
Mjau Lory
Weapon: Shiriti i Lorit (Lory's Ribbon)
Attack: Rryma e Ujit! (Water Current!)
Mjau Paddy
Mjau Pam:
Weapon:
Attack: Shiriti e Energjisë! (Ribbon of Energy!)
Trivia
While the Albanian Mew Mew Power dub translated most of their episode titles from the Italian version, this dub, despite dubbing fully from the Italian version, translated episode titles from the English dub.
Ad blocker interference detected!
Wikia is a free-to-use site that makes money from advertising. We have a modified experience for viewers using ad blockers

Wikia is not accessible if you've made further modifications. Remove the custom ad blocker rule(s) and the page will load as expected.