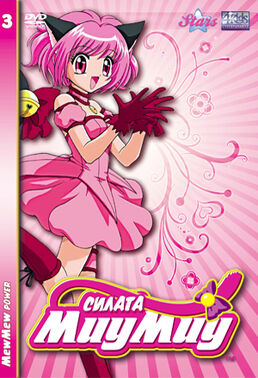 Силата Миу Миу (Transliteration: Silata Miu Miu, English: Miu Miu Power) is the Bulgarian dub of Tokyo Mew Mew, based upon the English dub made by 4Kids.
It was dubbed by Studio Stars
Dubbing
This dub was done in a different way than most others. Instead of it being a full dub it had the voice actors talk over the original English dub. This dub has 4 voice actors.
Episode List
Episode 1 - Стратегията на Миу Миу (The Mew Mew's Strategy)
Episode 2 - Новото Миу Миу Откритие (The New Mew Mew Discovery)
Episode 3 - Миу Миу 2 (Mew Mew 2)
Episode 4 - Духът на Басейна (The Spirit of the Pool)
Episode 5 - Лъвска Битка (Lion Battle)
Episode 6 - Миу Миу Гимнастика (Mew Mew Gymnastics)
Episode 7 - Миу Миу Парти (Mew Mew Party)
Episode 8 - Миу Миу Маймуна (Mew Mew Monkey)
Episode 9 - За Зелен Звяр (The Green Beast)
Episode 10 - Миу Танц (Mew Dance)
Episode 11 - Миу Миу в Холивуд (Mew Mew in Hollywood)
Episode 12 - Укротяването на Миу Миу (Taming the Mew Mew)
Episode 13 - Отново в Тинята (Again in Silence)
Episode 14 - Пеперудите Невъзможни (Impossible Butterflies)
Episode 15 - Героят Мини Миу (The Hero Mini-Mew)
Episode 16 - Книгите на Любовта (The Books of Love)
Episode 17 - Тайнственият Рицар (The Mysterious Knight)
Episode 18 - Рицарят в Сини Доспехи (The Knight in Blue Armor)
Episode 19 - Момичето с Делфина (Girl With a Porpoise)
Episode 20 - Дъщеря на Годината (Daughter of the Year)
Episode 21 - Полет от Гнездото Миу Миу (Flying From the Mew Mew's Nest)
Episode 22 - Шум (Noise)
Episode 23 - Влюбих се в Миу (I Fell In Love With Mew)
Episode 24 - Диамантите - Най-Големите Врагове на Момичетата (Diamonds - A Girl's Greatest Enemy)
Episode 25 - В Търсене на Синята Вода (The Search For Blue Aqua)
Episode 26 - Пашкулът (The Cocoon)
Names and Terms
This dub used the English names due to it being dubbed from the 4kids dub.
The transformation and attack phrases were translated literally and the mew rap was translated to make it rhyme. the catchphrase can be translated to: Mew Mew Style, Mew Mew Finesse, Mew Mew Power You'll See Today!
Home Video Release
all 26 episodes were released on DVD, being one of the two Mew Mew Power dubs to do so.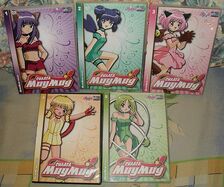 Voice Actors